This is an archived article and the information in the article may be outdated. Please look at the time stamp on the story to see when it was last updated.
LAWRENCE COUNTY, Ala. – Former Alabama Crimson Tide linebacker Ernest Nance is stuck in his bed. He has a number of ailments, including kidney issues and skin lesions.
Nance says doctors haven't figured out the cause of his health problems, but he has an idea.
"They don't know why my wounds won't heal. They won't heal," Nance said. "They don't know why they won't heal. And I think it's because I'm here using the water to bathe. I'm drinking the water."
He isn't the only one who has concerns about the water. Two years after being told not to drink their water, many Lawrence County residents are still concerned about its quality.
In fact, many believe the drinking water is killing them.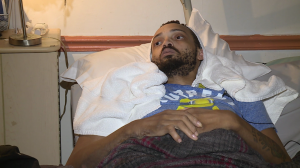 Hundreds are pursuing litigation against the West Morgan-East Lawrence Water Authority. Others have filed lawsuits against the companies accused of polluting the water. Many residents tell us they feel abandoned by the state of Alabama.
'Do not drink our water'
The Environmental Protection Agency lowered the guidance on the levels of perfluorinated compounds that would be safe for human consumption in May 2016. The EPA issued a health advisory after above-recommended levels were found in the drinking water supplied by the East Lawrence West Morgan water authority.
The PFC compounds found in the WMEL water supply are PFOA and PFOS. PFOA and PFOS are used in manufacturing products like Teflon and Scotchgard.
"I know we all have to go one day. But we don't want to rush it and definitely don't want to rush it just drinking water."
The chemicals were produced for decades at 3M in Decatur. The company pumped the leftovers straight into the Tennessee River. 3M announced it would stop making PFOA and PFOS in 2000. But the whole point of the chemicals is that they don't break down easily.
There is no federal ban on the chemicals. The State of Alabama has an agreement with 3M to try and clean up chemicals at the plant site, but there is no state limit on how much of the chemicals the company can discharge from the plant into the Tennessee River.
When the EPA changed the levels deemed safe, the WMEL water authority told their customers to not drink the water.
"It's awful to live in fear not knowing whether you can cook with it or drink it," says Martha Stover.
The majority of the county's 33,000 residents — those who can afford it or can get donations — survive off bottled water.
Response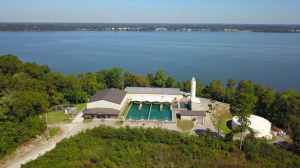 The WMEL water authority installed a carbon filtration system in October 2016. The carbon filtration system is expected to filter out the dangerous PFOA and PFOS chemicals. The WMEL Water Authority says the water currently meets all state and federal regulatory requirements.
The current system is supposed to help, but WMEL officials say it's not a permanent fix. They say the water treatment plant needs a reverse osmosis system estimated to cost $25 million dollars. The WMEL manager has previously told WHNT News 19 the reverse osmosis is a more advanced system to capture other industrial pollutants in water.
WMEL is hoping to pay for the $25 million system with settlement money from its lawsuit against 3M and Daikin.
Daikin recently settled for $4 million to pay for the current temporary system. The 3M suit is still in court.
Living in Fear
PFOA and PFOS are linked to crippling health problems — cancer, ulcerative colitis, thyroid disease — and on — and on.
"There's more sick people then there are healthy people," says Beth McCarley.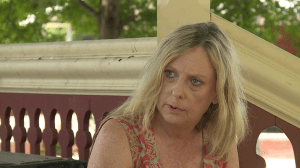 McCarley says she and her daughter both have a blood clotting disorder. Her mother died of cancer, which she thinks is connected to the contaminated water. She remembers playing in the river as a child.
"I wouldn't put my toe in it now," she said. "It might rot off. I don't know."
Nance, the former Crimson Tide athlete, can't walk. He blames all of his problems on the water. He survives mostly on bottled water these days and tries not to even brush his teeth with the tap water. But when money's tight, he and his family are forced to drink the water from the faucet.
"I think over half the people is dying from some kind of cancer," says Annie Hughes.
Hughes has lived in Lawrence County her entire life. She was recently diagnosed with bladder cancer. She believes the cancer is a result of years of drinking toxic water.
State Action
In other states, governments have stood up for their people.
In 2010, the Attorney General of Minnesota filed a lawsuit against 3M for PFOA and PFOS contamination. In February 2018, on the eve of the trial, 3M settled with the state of Minnesota for $850 million dollars. The AG's office says the settlement money is used for water quality programs in the contaminated areas.
In July 2018, the Governor of Michigan wrote a letter to his Attorney General urging him to sue 3M for contaminating their water with PFCs. The Governor believes the chemical manufacturer should pay up for poisoning the water.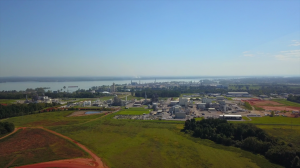 Back in Alabama — Attorney General Steve Marshall told us state environmental regulators haven't alerted him to a water quality issue that would require action from his office. Gov. Kay Ivey previously told us she'd consider getting involved with the issue later down the road. We haven't heard anything since.
We contacted 3M and asked them to comment for this story. To date, they have not.
In Lawrence County, they're counting days. And they're counting their friends, loved ones, and neighbors who've passed.
Plea for Help
"Two or three funerals a week," said Darrius Bell. "You know, four or five a month. That's kind of unusual."
You can filter out the deadly chemicals if you have the money. But what do you do with the fear?
"I know we all have to go one day. But we don't want to rush it and definitely don't want to rush it just drinking water," says Beel. "Come on now."
So to the politicians and public officials, the residents of Lawrence County have some questions for you.
"Where have you been? And when are you coming?" asks McCarley.
They want to know — how long do they have to wait?
Updated October 12 to include WMEL water quality information and comments about its filtration system.